What Comprises of National Capital Region (NCR/Delhi)
National Capital Region (NCR) of India covers areas of Delhi as well as adjoining cities of neighbouring states of Haryana, Rajasthan and Uttar Pradesh. NCR region covers a total area of about 33,580 km2 and a population of about 4.9 crores.
The idea of NCR was first conceptualized in first master plan of Delhi in 1962. The purpose behind the idea was to develop a metropolitan area around Delhi to divert increasing pressure of population from the north India. The idea came out of the necessity in order to protect Delhi's infrastructure from excessive pressure and a planned development of the region. In the year 1985, the Union Parliament enacted the National Capital Region Planning Board Act, with the concurrence of the participating States of Haryana, Rajasthan and Uttar Pradesh and NCR Planning Board was constituted.
NCR States and Cities
Following are the cities that are covered under NCR region
NCT Delhi (Area – 1480 sq km, population- approx 1.4 crore)
Haryana (contribution area to NCR- 13140 sq km). Included cities are Gurgaon, Faridabad , Mewat , Palwal , Rewari , Jhajjar, Rohtak , Sonipat and Panipat
Uttar Pradesh (contribution area to NCR- 10850 sq km). Included cities are Gautam Budha Nagar Dist (Noida and Greater Noida) , Ghaziabad, Bulandshahr and Meerut
Rajasthan (contribution area to NCR- 7830 sq km). Included cities are Bhiwadi and Alwar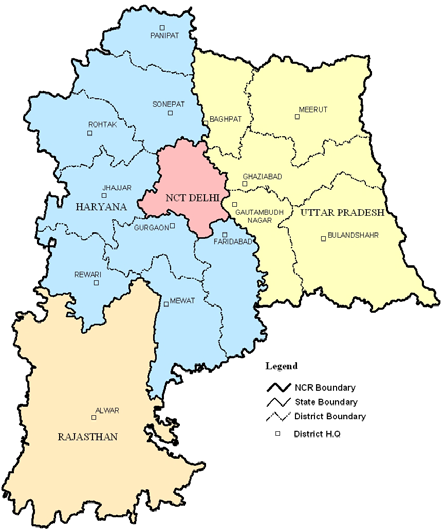 The NCR Planning Board is currently preparing a regional plan for 2021 that includes Rapid Rail Transit System, peripheral expressways, DMRCL corridor, rail orbital corridor and rail-cum-bus transit system. Please follow below posts on the subject
Fast Trains to NCR towns under RRTS
The vision is really so grand that in about 10 years, it will totally change the face of NCR region as we know it today. The travel would become fast, affordable and comfortable for the residents of currently far-away places such as Meerut, Alwar, Rohtak , Bulandshahr and Panipat. Below link provides the NCR Regional Plan for 2021. The regional plan not only takes care of roads and rails but also includes planning for power, drinking water, irrigation, sewage and solid waste management.
As per 2001 census, the total population of NCR was 3.7 crores and by year 2011, the population is expected to increase to 4.9 crore. By 2021, the planners are expecting a population of 6.5 crores due to immigration driven by jobs being created in the region.
NCR Region Highest Job Creator
In a recent survey done by Assocem revealed that NCR region was the highest job creator in India by creating about 34 percent of total jobs during April-Aug 2010. Read More on this
Surprisingly the second placed Mumbai region has been left far behind at 12 percent new job creations (is it Raj Thakray effect!). Clearly, it tells a long story in short that NCR region has come on the national stage (and to stay for a long time) due to infrastructural developments that have taken place due to CWG games and would be taken up as part of 2021 NCR Planning Board.
Latest Job Creation Report of 2013
NCR Tops new Company Registration
According to data from the Registrar of Companies (RoC), around 44,000 new companies were founded in the national Capital region (NCR) in the first nine months of the financial year, which is four times that of Maharashtra. The gap could widen if the numbers for Noida, the third member of the NCR triad, are factored in. Read More on this
NCR Attracts $1.85 billion during April-Aug 2010
NCR, including parts of Uttar Pradesh and Haryana, received USD 1.85 billion (Rs 8,476 crore) in FDI during the period Apr-Aug 2010. The region accounted for 20 per cent of the total FDI in the country. This is incredible since most of the big companies have their corporate office in Mumbai but have fledging operations in NCR region (and that FDI has not been accounted under NCR account). Read More on this
NCR Most Preferred to Settle Down
In sync with topping the job creation list, the NCR region also topped the charts in a recent survey 'Realty Trends 2010' for Indian metros and Tier II cities conducted by by web portal Makaan.com. As per the survey findings, amongst the respondents, the national capital tops the chart with 34 per cent buyers wanting to buy a house here. Read More on this
Therefore 34% new job creations is equally matched by 34% respondents who would prefer to settle down in NCR region.
NCR Investment Hotspot Destination for Retail Investors
Recently, Jones Lang LaSalle Meghraj Research conducted an analysis of residential markets across India to help identify investment hotspots for retail investors. The NCR region again topped this list of hotspot destination for investment with Gurgaon standing tall at number 1 position and Noida coming at no. 3 after Mumbai (2nd position). Read more on this
Delhi-NCR Largest
Urban Agglomeration
in India
Delhi NCR is the top urban agglomeration with a population of 21,753,486 (2.17 crores) while Greater Mumbai with a population of 18,414,288 is the top city in population;
As per the preliminary results of the Census 2011, released by the Registrar General of India, Greater Mumbai with a population of 18,414,288 continues to be India's biggest city, followed by Delhi—16,314,838 and Kolkata—14,112,536. These three cities are India's mega-cities with 10 million plus population.
But, when we consider Urban Agglomeration (UA) as an extended city comprising built-up area of a central core and any suburbs linked by continuous urban areas, there is a change at the top. Delhi NCR, with the inclusion of Gurgaon, Faridabad, Noida and Ghaziabad becomes the No 1 UA with a population of 21,753,486, ahead of 20,748,395 of the Mumbai Metropolitan Region comprising Mumbai, Navi Mumbai, Thane, Vasai-Virar, Bhiwandi and Panvel. Kolkata has clocked moderate growth.
Bengaluru is now almost as big as Chennai. Bengaluru with an UA population of 8,728,906 (8,499,399 excluding Hosur) is now bracketed with Chennai—8,917,749 (8,696,010 excluding Kancheepuram). Strain on civic amenities and commuting woes are consequently high in Bengaluru. However, it is still an important engine for growth in modern industries and job sectors in urban India.
Hyderabad, which was marginally bigger than Bengaluru in 2001, has now become the sixth largest city with a population of 7,749,334. Ahmedabad at 6,352,254 and Pune at 5,049,968, make up the other larger metros. Surat at 4,585,367 continues to grow rapidly and had added over 1.7 million during the decade. Jaipur, with a population of 3,073,350 has overtaken Kanpur for a spot in the Top 10.
http://www.moneylife.in/article/mumbai-is-the-largest-city-delhi-ncr-largest-urban-agglomeration/21109.htmlBottom of Form
Mumbai, Delhi NCR are most preferred investment destinations
Dec 31, 2012, 10:46AM IST
Mumbai/Delhi NCR
With year 2013 just around the corner real estate investors across the country seems to have decided where to put in their money in the coming year. If results of a survey Investments in 2013, conducted by MagicBricks.com, are any indication of investment patterns in India, then majority (nearly 25 per cent) of the prospective home buyers across the country prefer Mumbai for their real estate investments. Delhi NCR follows at the second spot with 22 per cent respondents selecting the capital city.
While Delhi is the capital state Mumbai is the financial capital of the country. "Any financial destination is bound to grow in terms of capital appreciation," says Manoj Goyal, director, Raheja Developers. "This works in favour of both Mumbai and Delhi NCR. Particularly in Mumbai, due to the huge gap between demand and supply, the scope of appreciation is always high. This makes it an ideal investment destination in spite of high realty prices," he adds.
Further a large number of investors are looking to put in their money in emerging suburbs of Mumbai city. "Budget housing is a growing trend in the far flung suburbs of Mumbai. These locations not only offer properties at affordable rates as compared to the main city but also ensure high return on investments," explains Vijay Lakhani, MD, Lakhani Builders.
Delhi, on the other hand, still has a lot of scope for economic and infrastructural development. "In the last 10 years Delhi NCR has witnessed the maximum foreign direct investments in various industries. Thus the city has been gearing up for a lot of economic activity creating increased job opportunities," adds Goyal. Thus the scope of further growth coupled with availability of jobs makes it a coveted real estate destination.
Younger generation have large disposable incomes that they want to invest. Thus they prefer to pay EMIs on their own house rather than paying rents while living in cities like Mumbai and Delhi for their work. This was also evident from the survey which revealed that almost 50 per cent of the respondents want to purchase a home for self use. High property prices, it seems, is no limiting factor for those contemplating about property investments in Mumbai and Delhi NCR real estate. Thus increased scope for capital appreciation in Mumbai and economic growth in Delhi is set to drive real estate investments in 2013.
Sruthi Kailas, MagicBricks.com Bureau
http://content.magicbricks.com/mumbai-delhi-ncr-are-most-preferred-investment-destinations/?fromSite=toi&utm_source=toi&utm_medium=referral&utm_campaign=toi-mb-whitelabel-city-delhi-ncr
Delhi-NCR topped in job generation this year: Survey
Our Bureau
Overall job generation plummeted 21% between Jan-Dec, says Assocham
New Delhi, Dec 25:
While this year saw a decline of about 21 per cent in new job generation across sectors, Delhi-NCR region fared better than other regions.
A total of over 5.3 lakh jobs were generated in the country during January to December 15, with over 2.8 lakh jobs in first half of the year and over 2.4 lakh jobs during July-December 15, says an analysis titled 'Job Trends Across India in 2012' by The Associated Chambers of Commerce and Industry of India (Assocham).
Among regions, Delhi and National Capital Region (NCR) topped by generating over 1.1 lakh jobs, followed by Mumbai with over 77,000 jobs, Bangalore with over 75,000 jobs and Chennai with about 44,000 jobs.
Kolkata generated the least number of jobs among metros at over 25,000 jobs, D.S. Rawat, Secretary General of Assocham, said.
Among sectors, information technology topped with over 2.1 lakh jobs generated between January and December 15, followed by academics and education with over 34,500 jobs.
The insurance sector generated over 27,100 jobs, followed by banking at 24,500 jobs, automobile (22,890), financial services (22,500), manufacturing (20,400), engineering (18,650), hospitality (16,100) and IT hardware (15,600).
The analysis found only academics and education sector registering a rise in job generation growth of over 16 per cent in the first six months, while other sectors saw a dip in job growth by over 10-50 per cent.
Overall, the analysis found a decline in job generation in most cities in the later half of this year.
Among non-metros, Kochi registered the highest job generation growth of over 30 per cent with the number of jobs rising from over 1,500 in January-June this year to over 2,000 between July and December 15. Agra saw a rise of 14 per cent, Ajmer 12 per cent, Udaipur 10 per cent, Kota 7 per cent, Kanpur 5 per cent, Vellore 5 per cent and Jalandhar 4 per cent.
The chamber sourced inputs primarily from data tracked on a daily basis for vacancies posted by about 4,000 companies via job portals such as timesjobs.com, naukari.com, monster.com, shine.com and job-related advertisements published in national and regional dailies in about 56 cities and 32 sectors, an Assocham release said.
aditi.n@thehindu.co.in
http://www.thehindubusinessline.com/industry-and-economy/economy/delhincr-topped-in-job-generation-this-year-survey/article4238220.ece
We at NCRHomes.com, welcome you to this portal to continue a journey in the 'happening n hotspot' – NCR Region.
Click following link for

Categories: NCR, NCR Transportation Tags: delhi apartments, delhi flats, delhi homes, delhi properties, faridabad, ghaziabad, ghaziabad properties, greater noida, greater noida properties, Gurgaon, gurgaon apartments, gurgaon flats, gurgaon homes, gurgaon properties, national capital region, NCR, ncr area, ncr cities, NCR Homes, NCR jobs, NCR map, NCR properties, NCR rail, NCR real estate, NCR RRTS, ncr states, noida, noida apartments, noida flats, noida homes, noida properties